As a mom shopping with a little one sometimes is a Nightmare, especially if its raining or snowing out. Did you know that you can order items ONLINE from the Dollar Tree store to make your life so much easier?? 
.
Stock up on your Halloween Treats for all the Kiddos and all the party supplies you need..
The Holidays are coming and sometimes you dont want to use your expensive glassware on your guests incase they break... But for only $1 its not a big deal if you hear a crash or boom.
Once Halloween is over its Time to start thinking about Thanksgiving & Christmas. So if your looking for a quick & cheap fix to look fancy but not break the bank check out these affordable product you can spice up your tables with!
Its not just about Spring Cleaning. When you start to make room for the Halloween, Thanksgiving & Christmas decor be sure to take the time to do a little extra Fall Cleaning while you can.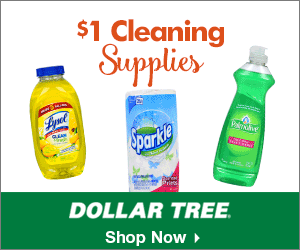 I know you probably shop for most of these items in bulk but its always good to have a few single packs lying around incase you dont make it to the store to buy the bulk options
Do you have a little girl who loves to play dress up or is constantly stealing your expensive beauty products. Why not order her a few items just for her to mess around with at no major cost to you